No.1 Cycling in Yamaguchi City's Rural Landscape!  From Shin-Yamaguchi Station to Roadside Station Kirara-Ajisu
2021/10/28
2021/07/28 (Wed) Author: Yamaguchi University, Faculty of Global and Science Studies students
Hi, we are students at a Faculty of Global and Science Studies in Yamaguchi University.
We are cooperating with Sports Field Yamaguchi Promotion Council to spread the attractions of Yamaguchi Prefecture to foreigners.
We make cycling videos in various areas around Yamaguchi Prefecture, and provide useful information and details in Web articles.
The video is here↓

This time, we were in Yamaguchi City which is prefectural capital in Yamaguchi prefecture.
We cycled from Shin-Yamaguchi Station to Roadside Station Kirara-Ajisu (about 15km) with Ms. Tina from America, who lives in Yamaguchi City.
Today's Route
Ⓐ Shin-Yamaguchi Station 9:30 A.M. →Ⓑ Rural landscape 1 (next to the Yamaguchi Prefectural General Traffic Center) 10:00 A.M. →Ⓒ Rural landscape 2 (Natajima area) 10:20 A.M. →Ⓓ Kozaki Park 11:20 A.M. →Ⓔ Suo Bridge 11:30 A.M. →Ⓕ Roadside Station Kirara-Ajisu 12:00 P.M.
Google Map Cycle Route is here↓

START
Ⓐ Rent bicycles at Shin-Yamaguchi Station!
We rented bicycles at JR station Rental Car Shin-Yamaguchi Office in Shin-Yamaguchi Station.
Exiting the Shinkansen ticket gate, and then go down the escalator and enter the station.
There, we can see JR station Rental Car Shin-Yamaguchi Office.
It's near the restrooms.
There are cycling brochures not only in Japanese but also in English outside the store.
The outside of the office is shown in the photo below.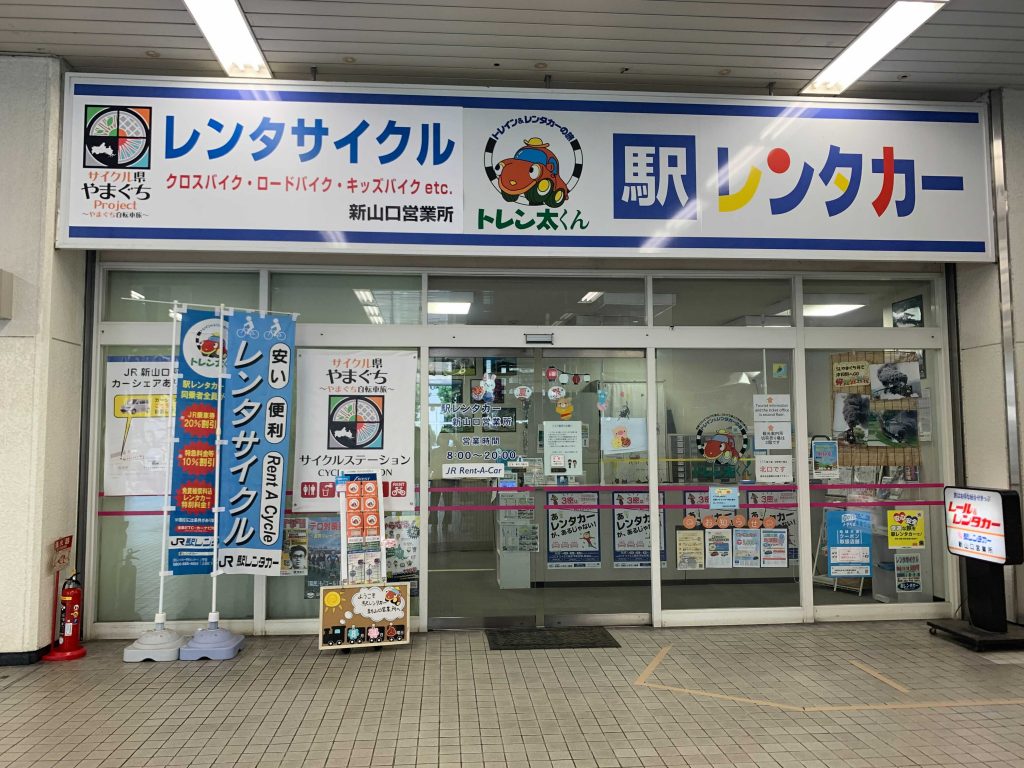 When renting bicycles here, it is recommended to call in advance to make a reservation.
It is better to make a reservation by phone, especially in the following cases:
・You want to rent two or more bicycles.
・You want to rent a variety of bicycles.
Even if you cannot speak Japanese, they can use a translator to help you.
Please feel free to contact them.
Please tell them your name, the type of bike, the number of bicycles, the time, and your telephone number when you make a reservation by phone.
For example: My name is Yamada. I would like to rent one electric cross bike from 11:00 to 16:00.
My phone number is 00000000.
Reservations can be made here↓
JR station Rental Car Shin-Yamaguchi Office
Lending time 8:00-18:00
Telephone number 083-972-6371
This time we made a phone reservation and rented a cross bike and an electric cross bike.
This explains the process of renting a bike when you make a reservation by phone.
1. When you enter the office, tell the name of your reservation to the staff.
2. Fill out the application form.
Cross Bike Application Form↓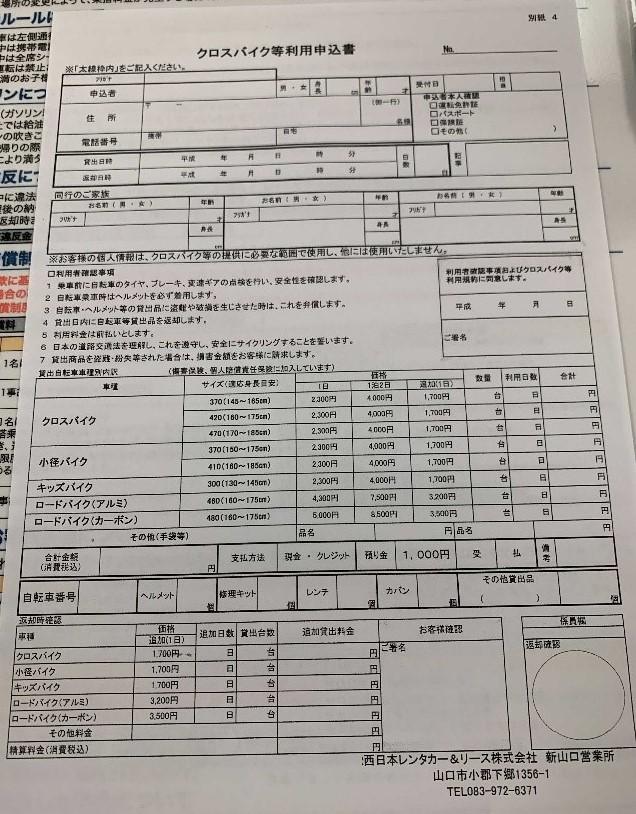 Electric Cross Bike Application Form↓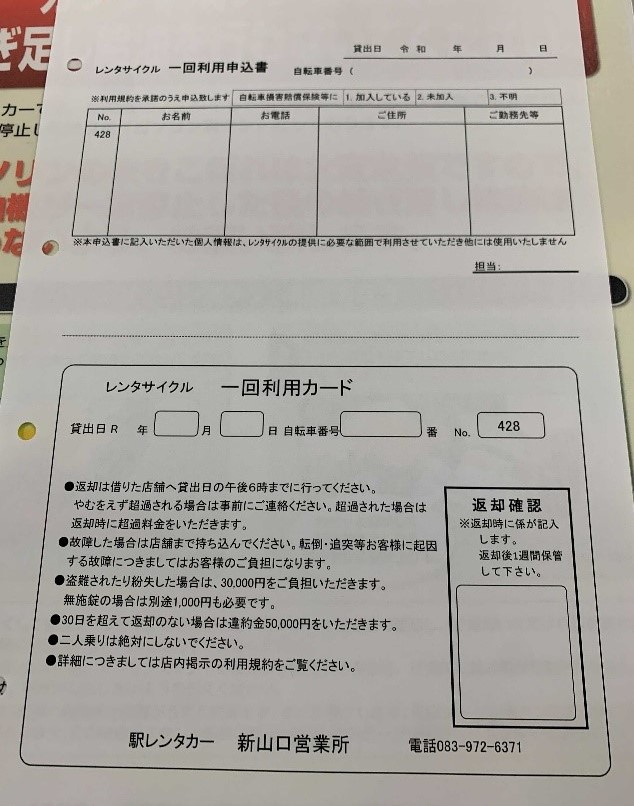 3.Submit your ID. (e.g. passport)
4.Pay the fee.
5.You will be guided to the place where the bicycles are stored.
6.Bike rental completed!
If you understand Japanese at a daily conversation level, the procedure will take less than 10 minutes.
This is the bike we rented this time.
Electric cross bike↓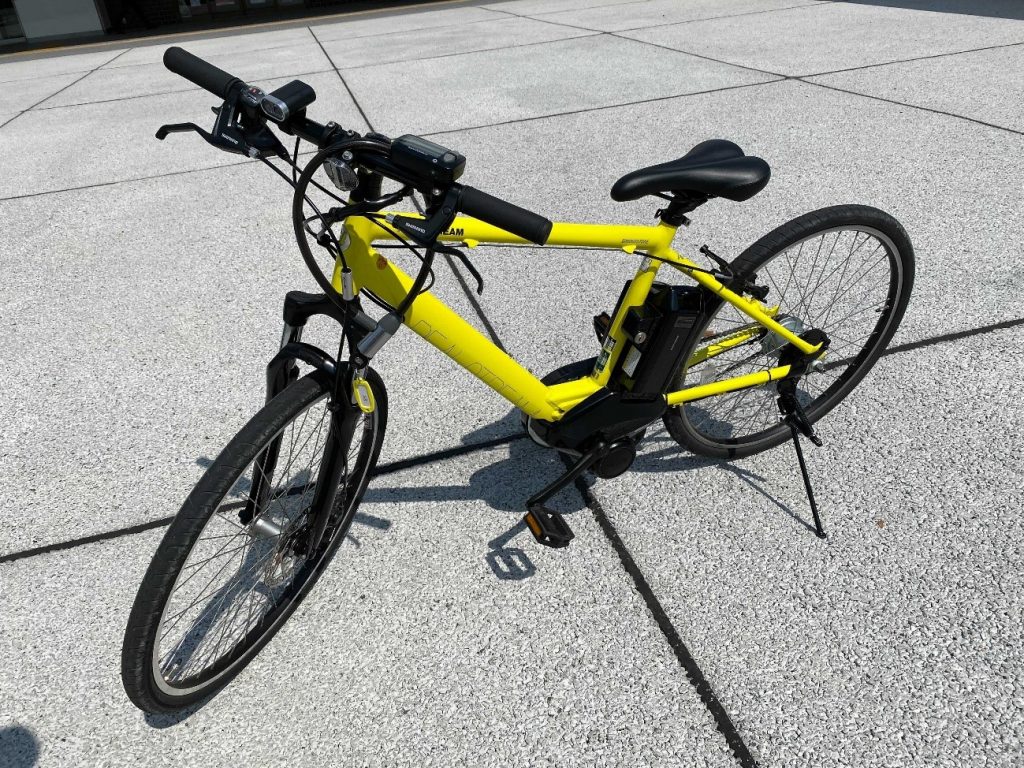 Cross bike↓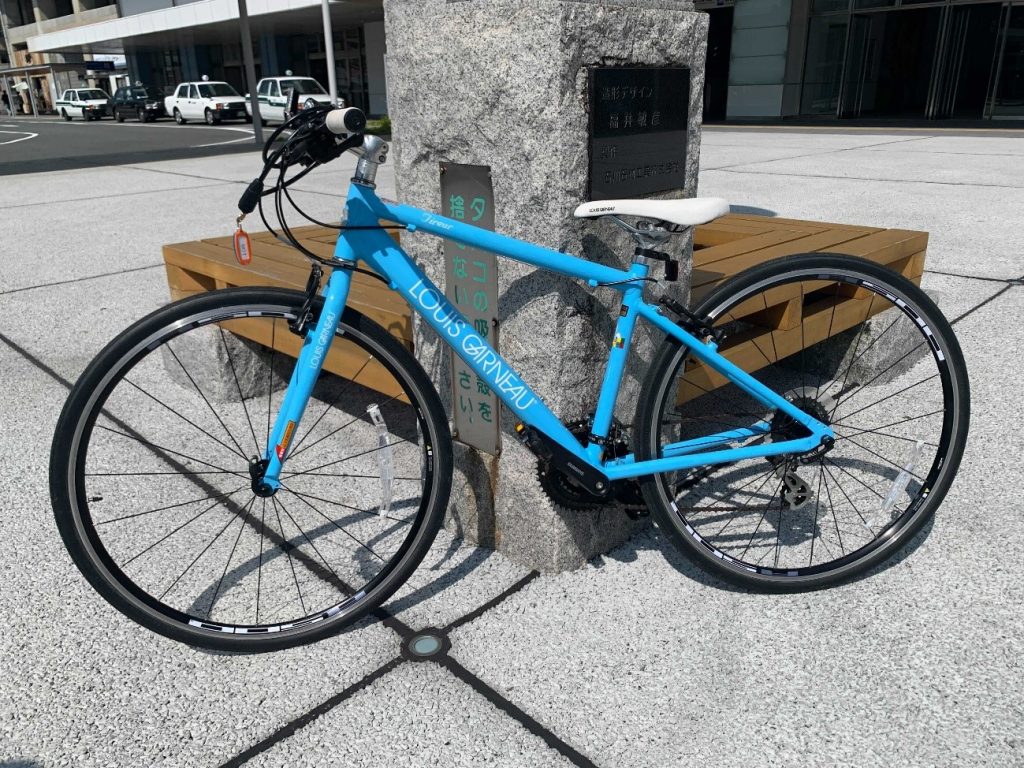 Electric cross bikes are only 500 yen per day. They are also very comfortable to ride, so if you find it hard to ride a bike for long distances, you should try renting one!
Cross bikes are 2,300 yen per day. If you like cycling, this is also a good way to enjoy it.
Also, please keep in mind that payment is in cash only.
Tina usually rides a city bike (we call it mamachari), but this time she tried an electronic cross bike for the first time!
She loved it and said it was easier to ride than her city bike.
It is forbidden to rent a bicycle and ride it right outside the station.
Please push your bicycle past the station property.
Let's go!
Ⓑ Cycling beside the Rice Fields
Immediately after passing by the Yamaguchi Prefectural Transportation Center, you will see rice fields on your left.
This is around point Ⓑ on the map. The big road on the upper right is Yamaguchi Prefectural Road 212.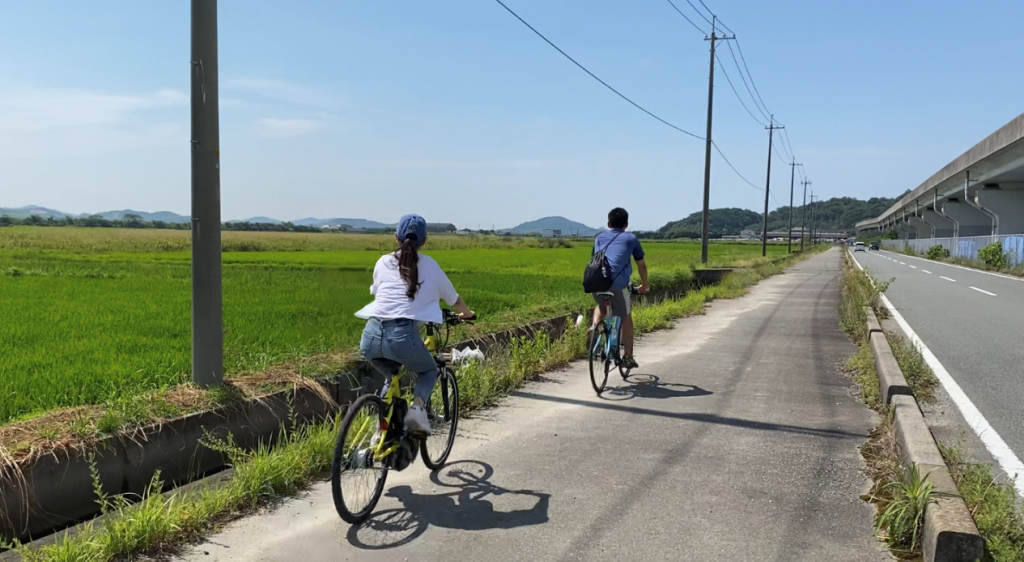 The summer rice fields are a green color, just like in the picture.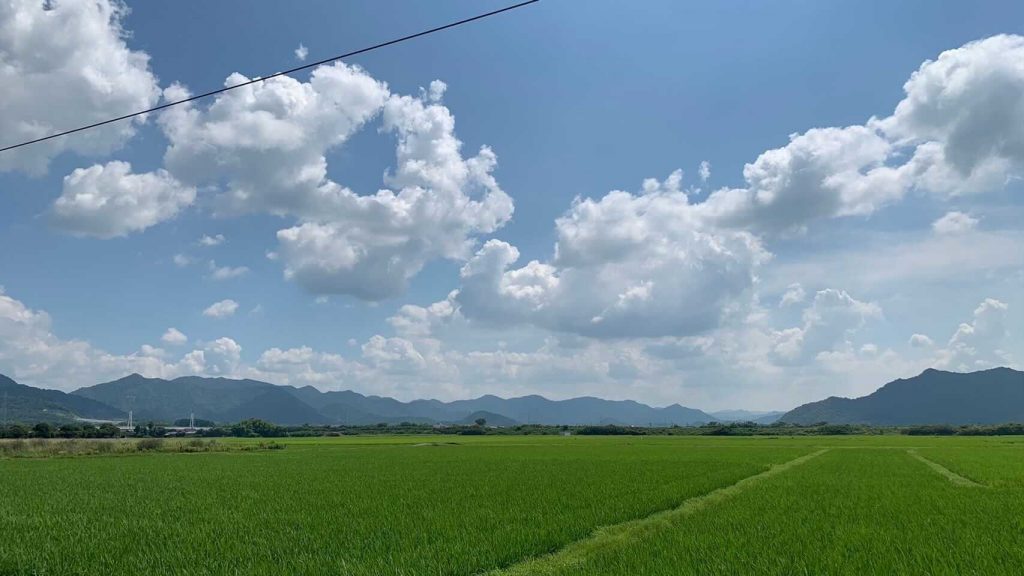 We headed towards Aio, which is written on the sign in the photo below.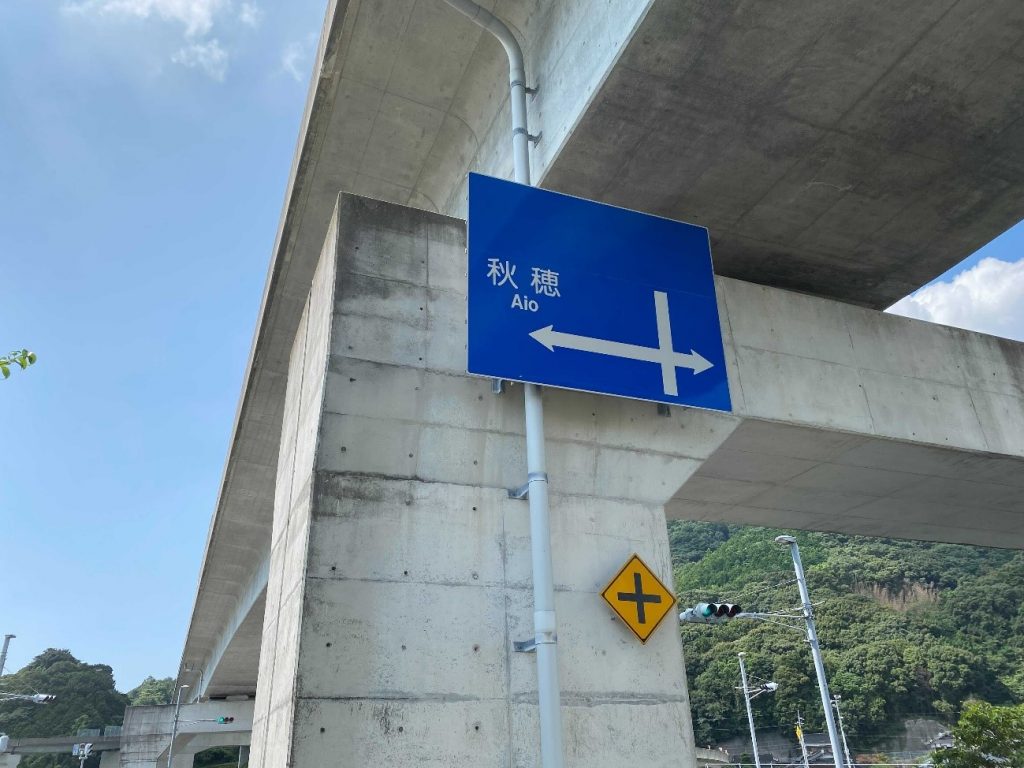 This is the view from the bridge in front of point Ⓒ.
The Suo Bridge, which we are going to pass can be seen on our right.
We still have a long way to go!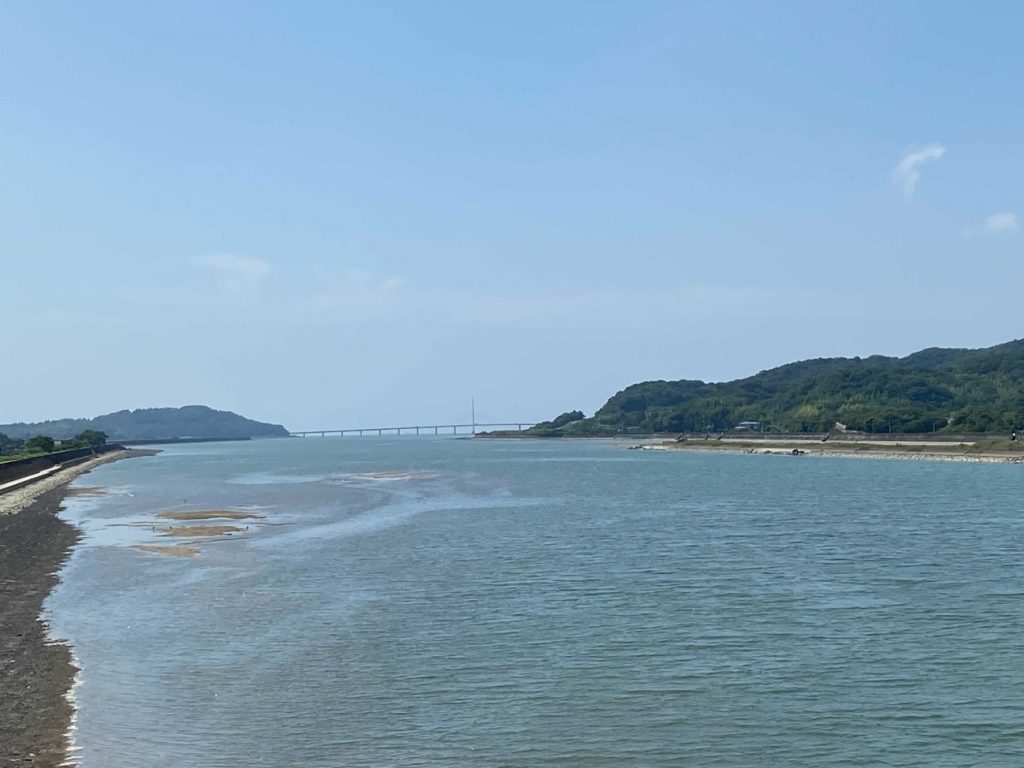 Ⓒ Rest and detour
We took a break in the parking lot of a closed convenience store just past the bridge. This is point Ⓒ on the map.
Make sure you lock your bicycle securely.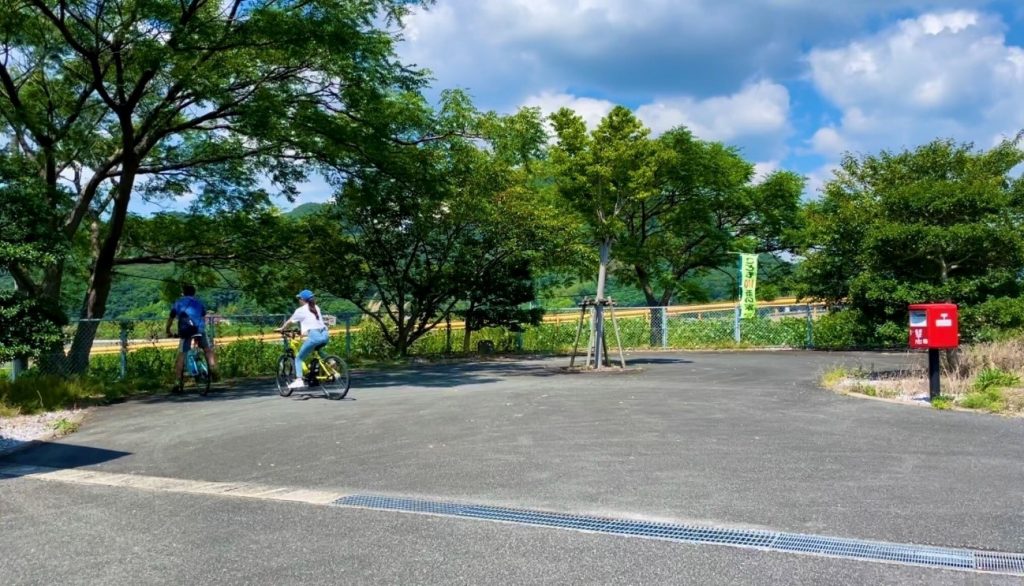 We took a break and stopped at a rice field.
It's so beautiful, with bright greenery all around.
This is an area called Natajima in Yamaguchi City. The land was reclaimed during the Edo period, and wheat is being harvested in abundance.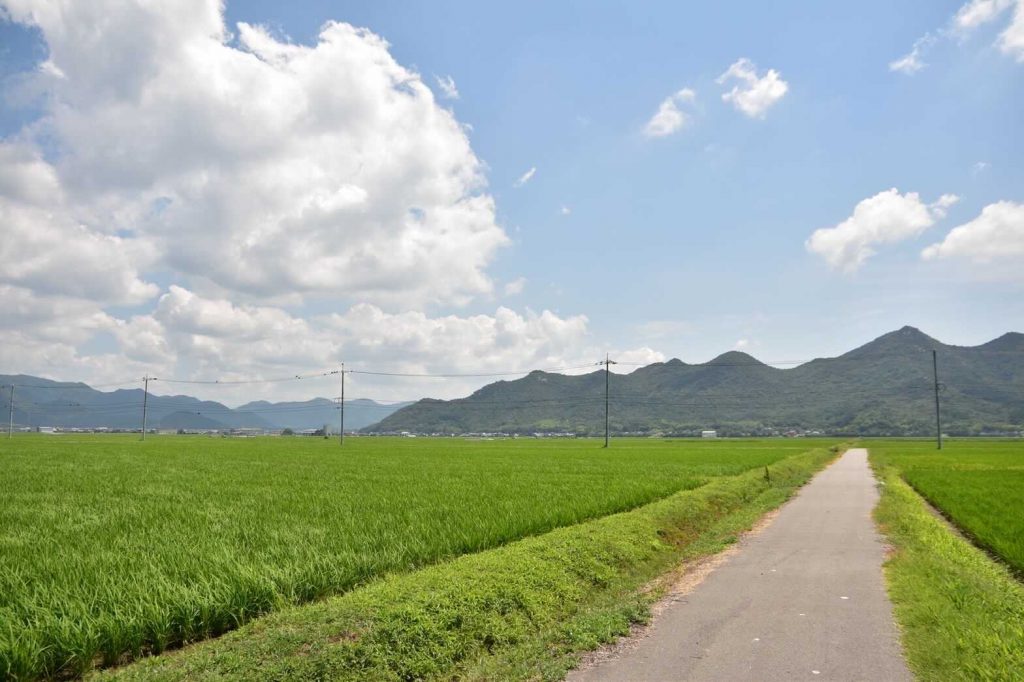 Since the scenery was amazing, we took some pictures…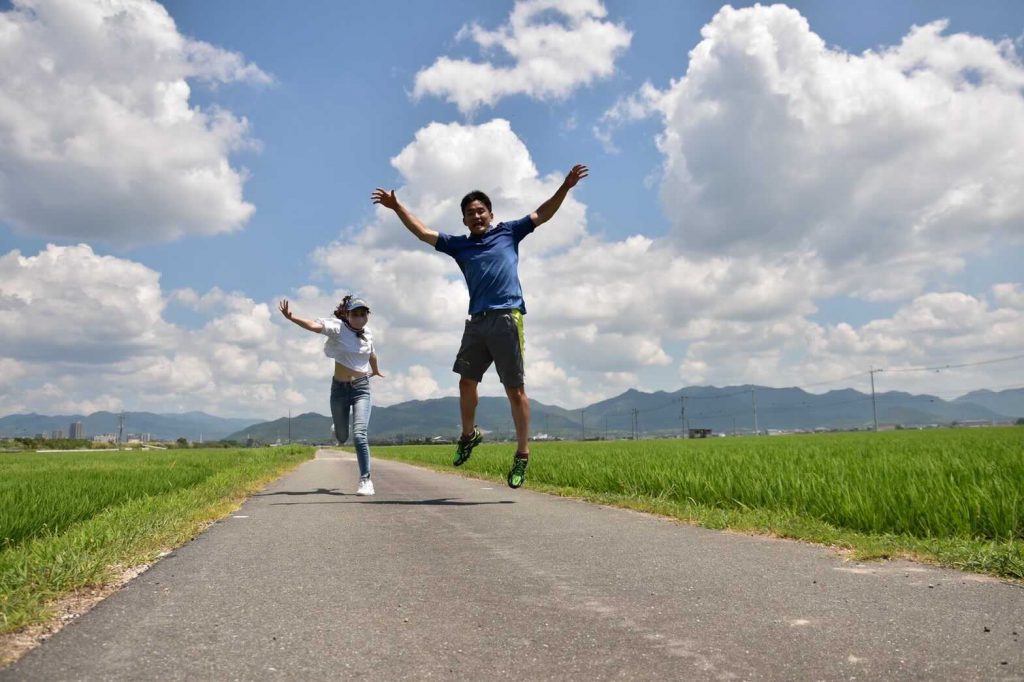 The high temperature that day was a surprising 36℃! It was very hot. We bought some drinks from a vending machine to keep ourselves hydrated, and we were off again!
There wasn't much traffic on this road, and the road is not uneven, so it was a nice ride!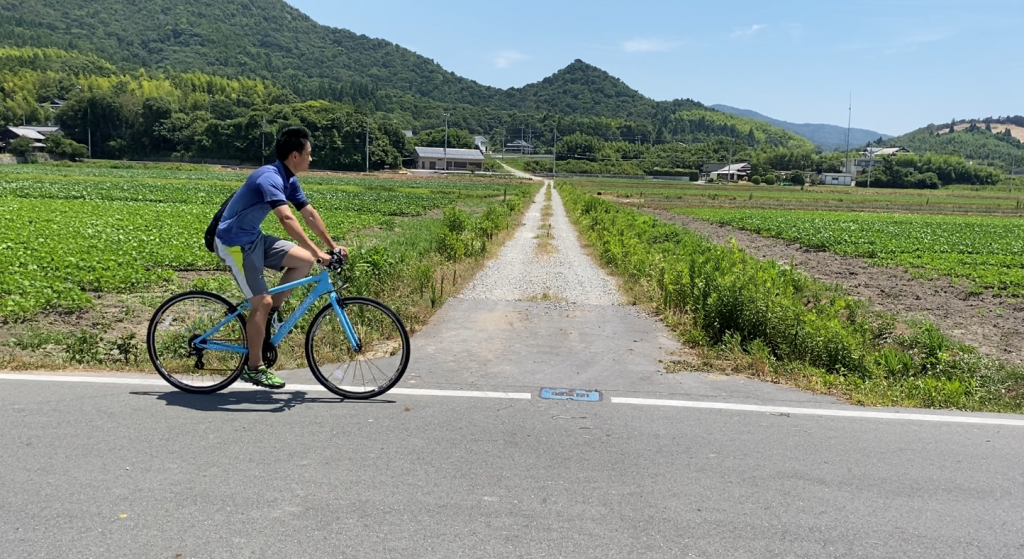 As I pedaled my bike, we finally saw the Suo Bridge.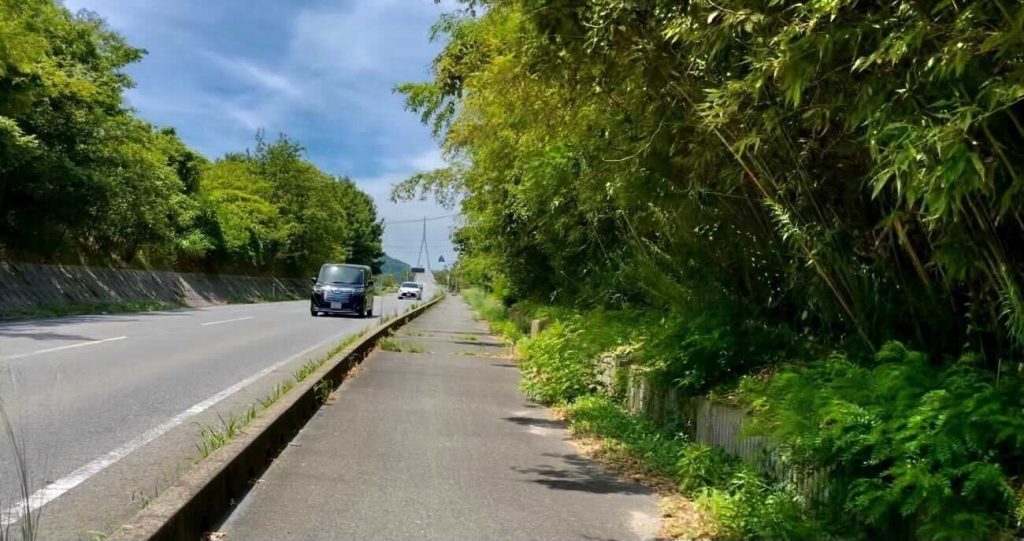 Ⓓ Take a break at the Kozaki Park
Before passing Suo Bridge, we took a break at Kozaki Park!
As you enter the parking area, there is a place to park bicycles, a rest area, and a restroom at the back right corner.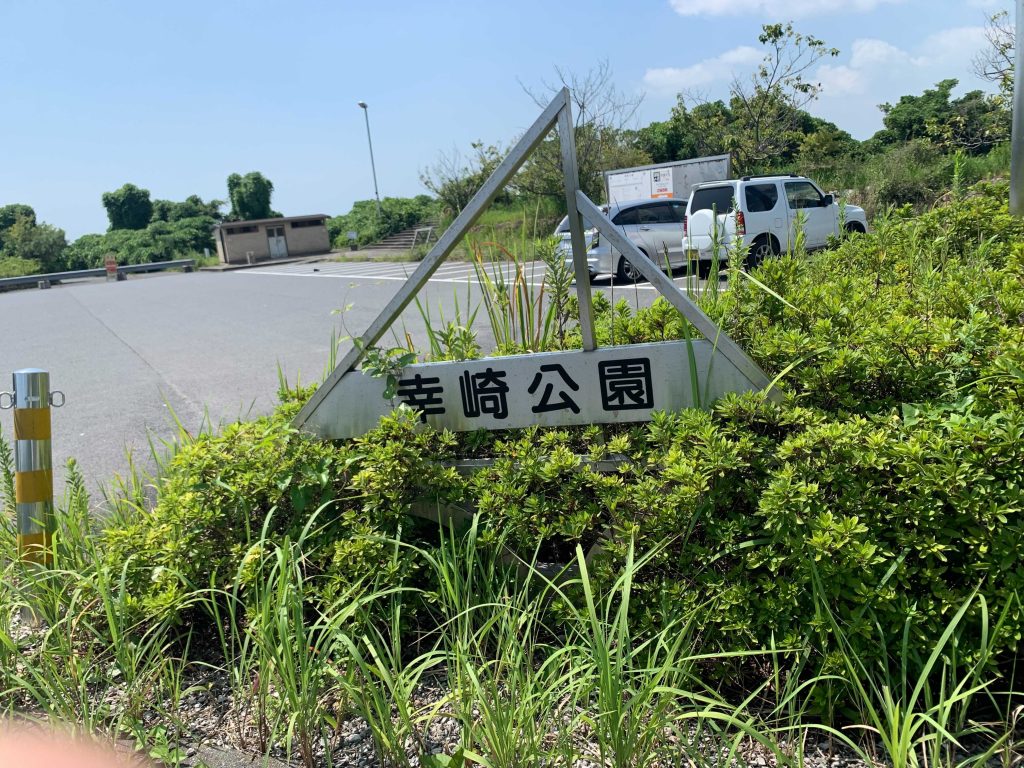 It is a place where you can experience nature as it really is, with its lush vegetation.
It is a place where you can experience a different kind of atmosphere, as if you were cut off from the rest of the world.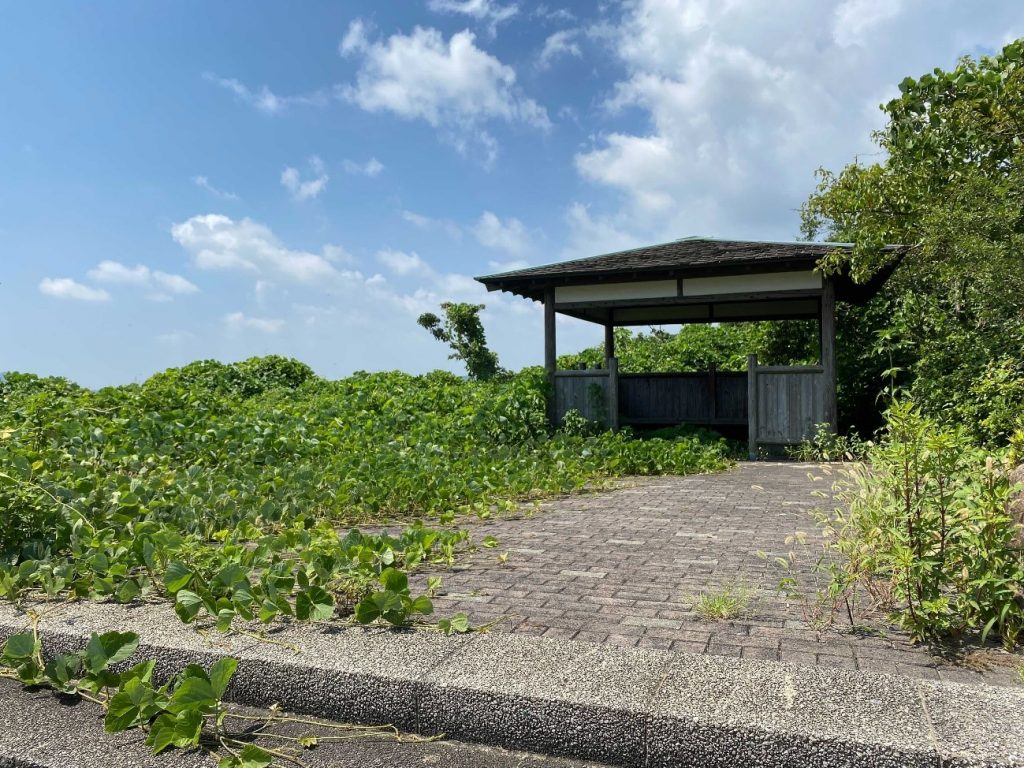 Ⓔ Passing Suo Bridge!
Finally, we crossed Suo Bridge. It's 1,048 meters long, but when we actually across it, we finished in no time.
The road is well maintained and easy to cross, with very little difference in elevation.
The breeze with the scent of the sea in it feels so good!
The bridge looked so small from afar, but when we drove over it, we were thrilled to see how big it was.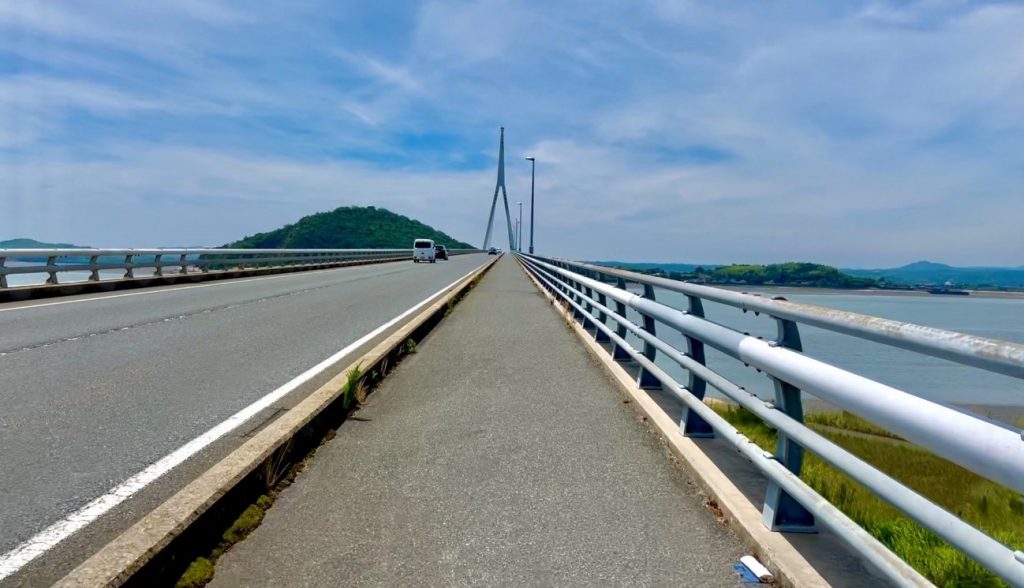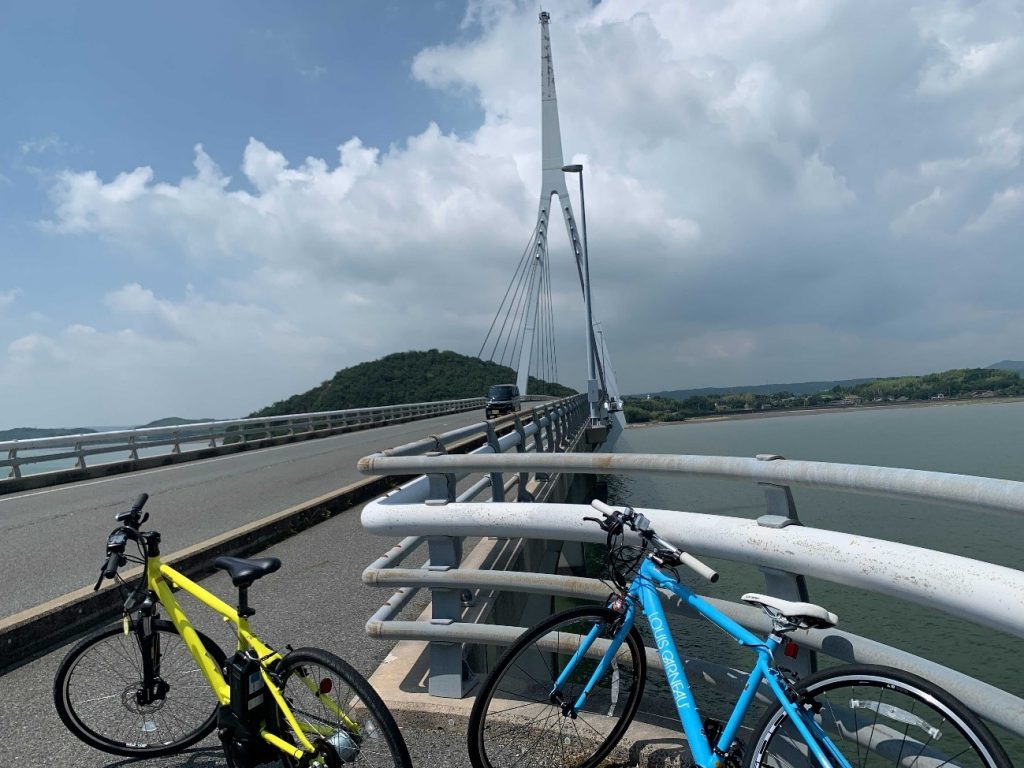 However, it is very windy here, so be careful not to get your hat blown off.
(Two of my companions' caps were blown off by the wind.)
Goals
Ⓕ Lunch time at Roadside Station Kirara Ajisu!
We arrived at our destination, Roadside Station Kirara Ajisu!
We felt pleasantly tired upon arrival.
We bought our lunch here and had it on the terrace.
There is a place to park your bicycle on the left side of the entrance.
The second photo below was taken as a memorial, so please park your bicycles properly in the bike parking space.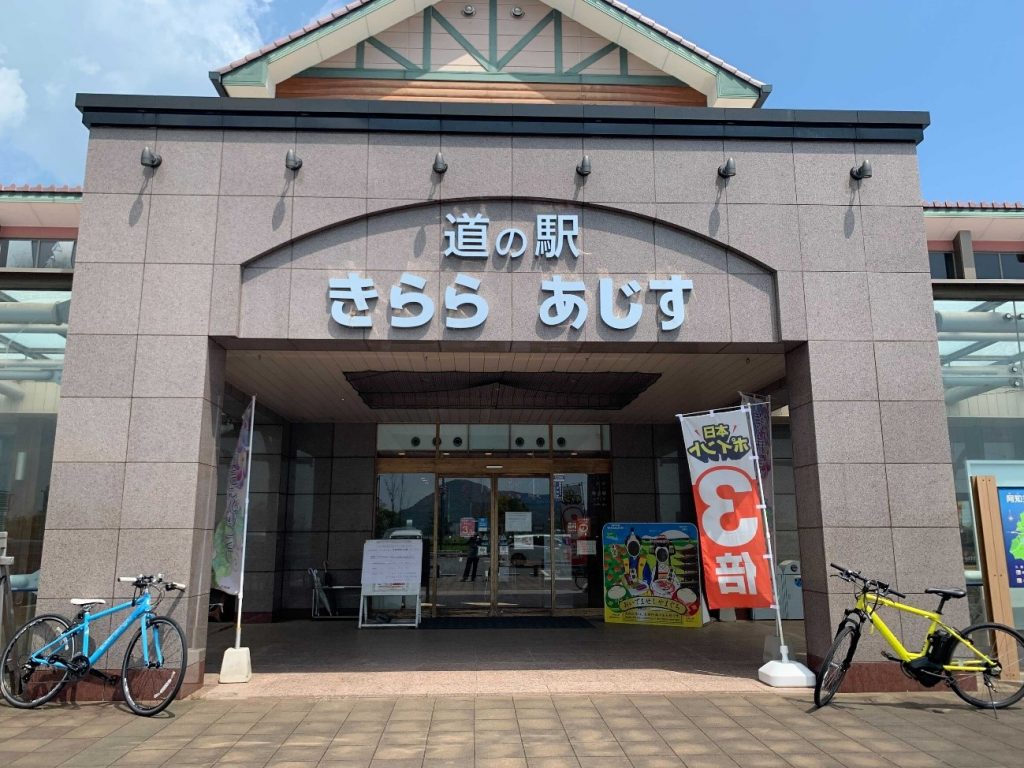 Roadside stations are a great place to get local specialties and various information about the area, and are visited by many tourists.
Please stop by a roadside station and see them.
By the way, have you ever heard of a special product called kuri-masaru?
Actually, Kurimasaru is a pumpkin.
In the Ajisu area of Yamaguchi City, where Roadside Station Kirara Ajisu is located, people have long been cultivating pumpkins, taking advantage of the soil that is suitable for draining waste water.
Incidentally, the name comes from the fact that they are "sweeter than chestnuts".
※The photo is edited.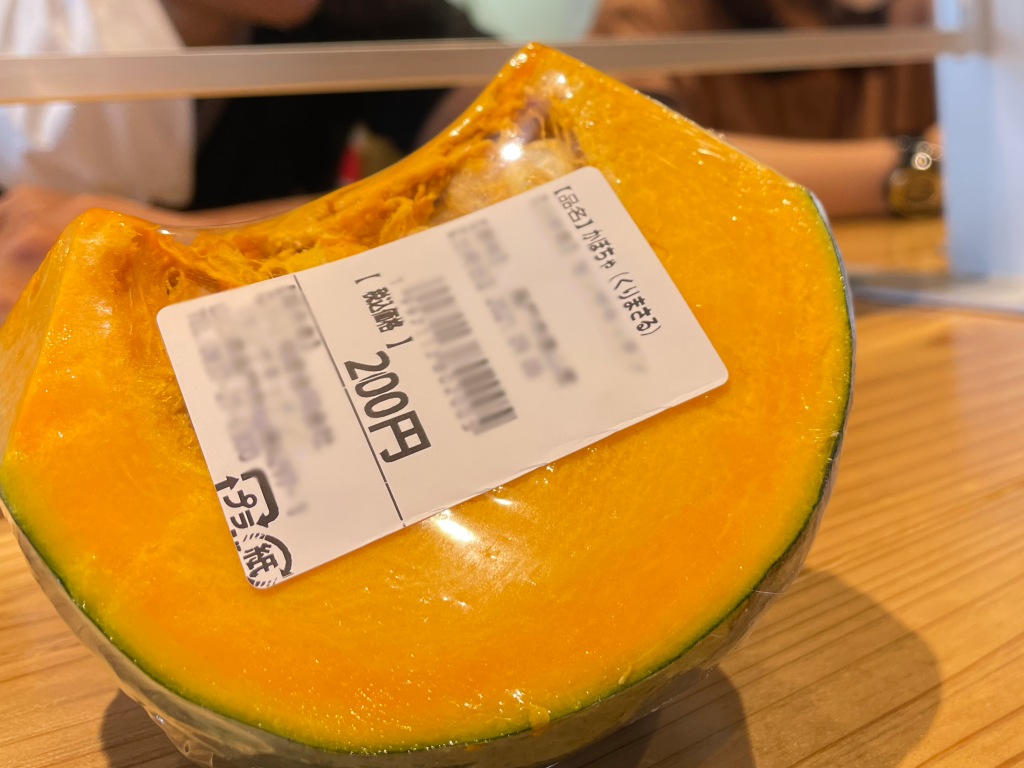 On this trip, we got a mixed cone that contained both vanilla and kuri-masaru!
They cost 320 yen each!
You can feel the sweetness of the pumpkin and it goes very well with vanilla.
If you eat it outside in the summer, be careful because it melts quickly in the heat.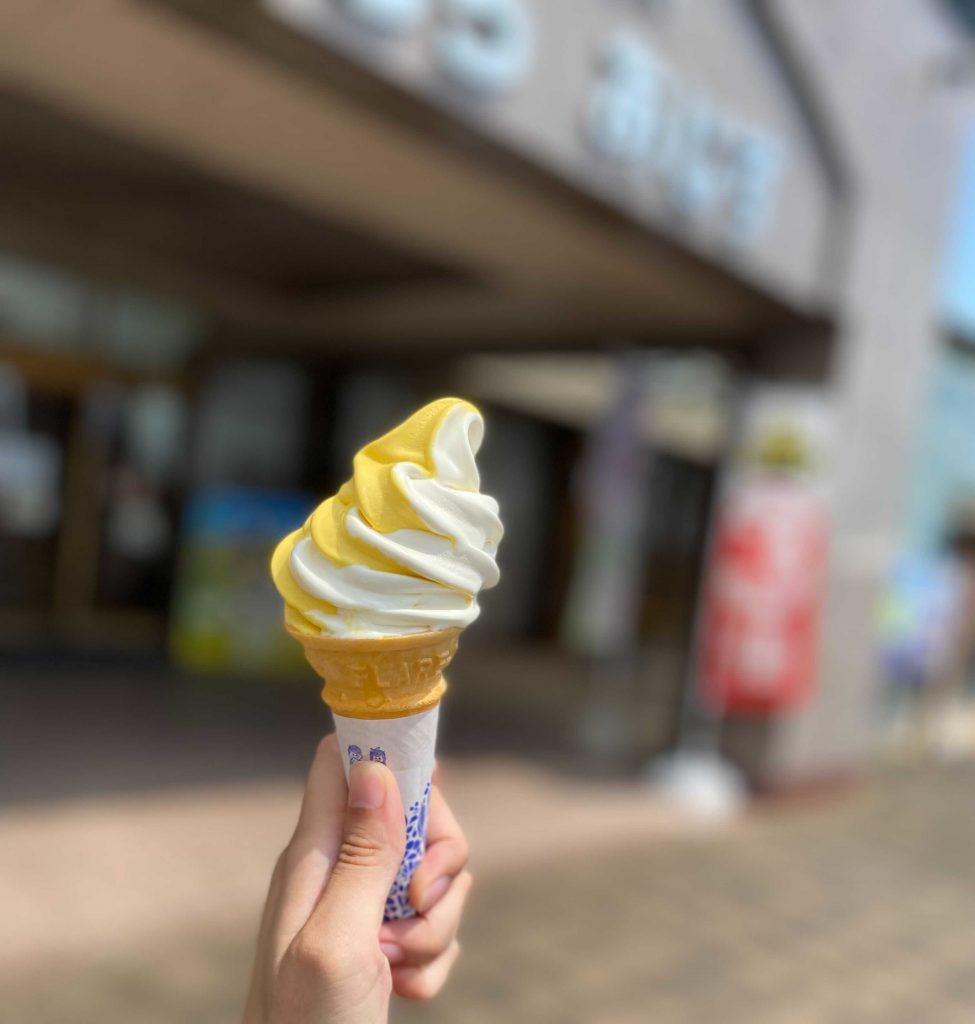 There are also many other sweets and local specialties for sale, so I highly recommend that you visit this station.
Roadside Station Kirara-Ajisu
Opening hours 8:30 – 19:00
Phone number 0836-66-1001.
Website https://kiraraajisu.jp/
It's about 15 km from Shin-Yamaguchi Station to Roadside Station Kirara-Ajisu, and the one-way trip takes about three hours, including breaks.
When you ride your bike in the summer, please make sure you bring water, towels, and any other items you need, and take adequate heat precautions!
Why don't you try cycling as one of your travel plans in Yamaguchi?
I look forward to seeing you all here!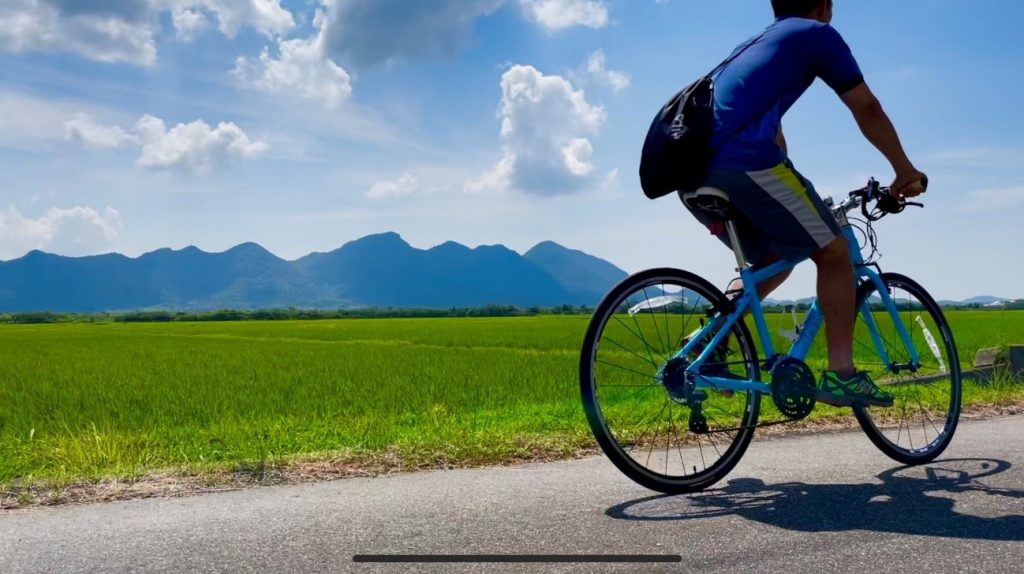 Additional Information
Ⓖ TOTOMATO Cafe
I'd like to introduce you to a cafe called Totomato in the Yamaguchi Kirara Expo Memorial Park.
About the location, we have pinned it to Google Maps. Please look at it if you like!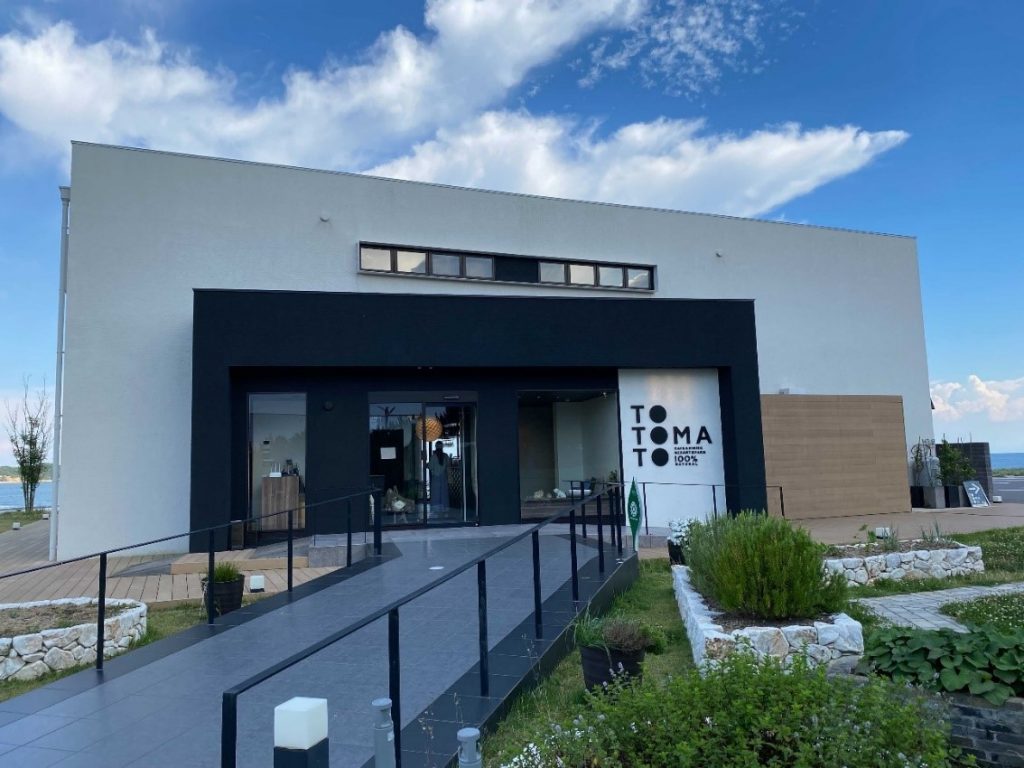 There are many beautiful dishes to choose.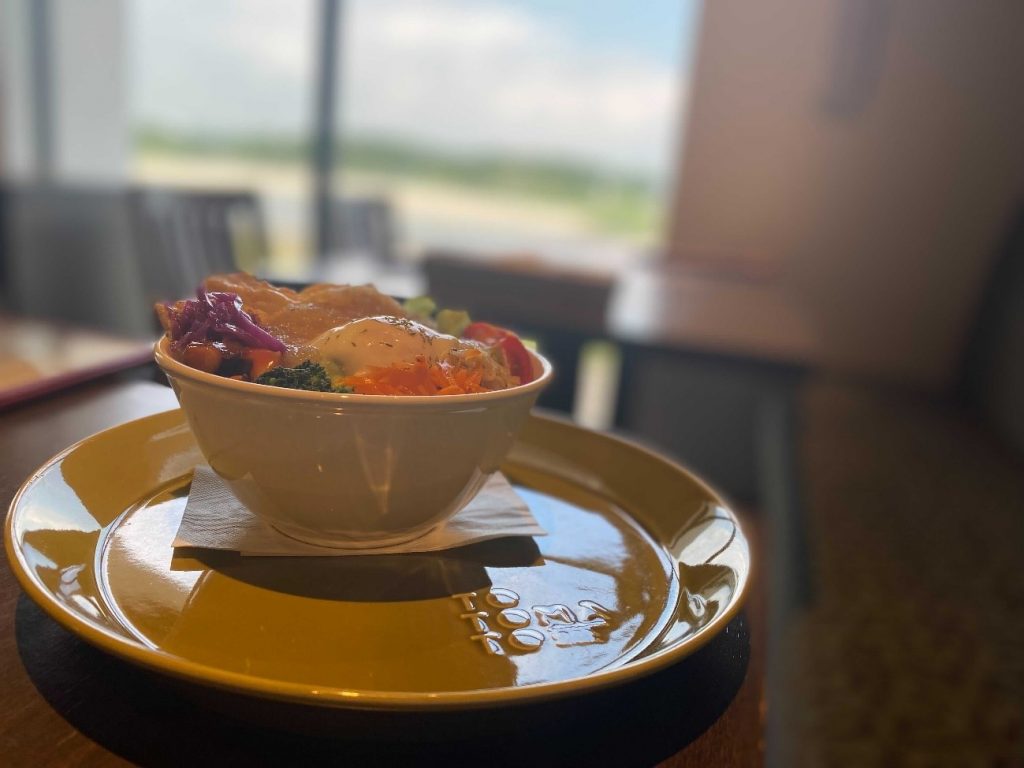 The terrace seats are wide, with a view of the ocean. The atmosphere is relaxed and it's easy to spend time there.
Why not try drinking a smoothie on the terrace while looking out at the ocean?
The photo below is a hojicha smoothie. (500 yen)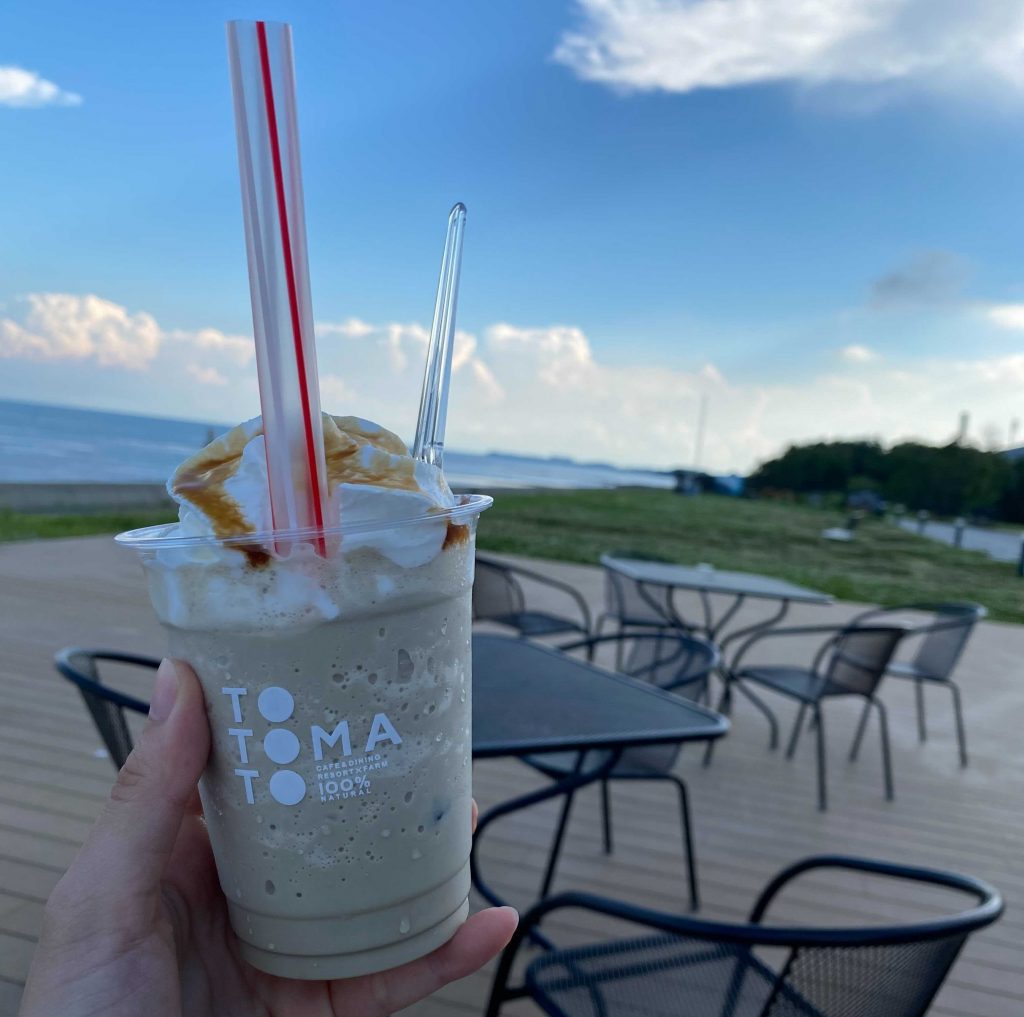 It's about a five-minute bike ride from the roadside station, so please come on!
TOTOMATO
Open Hours   10:00~18:00
Phone Number  0836-66-0101
Instagram  https://www.instagram.com/totomato_ig/?hl=ja
The End